On this page you'll find a range of webbing collars and leads, the cushioned Half Check Collars & Leads both come with Nickel furniture whereas the Martingales all have Brass. For Leads with Brass Trigger Hooks please see Leads page.
Adjustable size to fit Small 28cm-38cm, Medium 35cm-51cm, Large 46cm-61cm, XLarge 56cm-71cm. See the measuring guide on the home page and choose the correct size from the drop-down box allowing a few inches for adjustment.
Scroll over the picture to see the name of the fabric style.
Delivery is free within the UK, please contact me for tracked International postage costs outside of the UK before ordering.
25 mm Cushioned Webbing Half Check
25 mm Cushioned Webbing leads with a nickel trigger clip
25 mm/1 inch Double Strength Polypropylene Martingale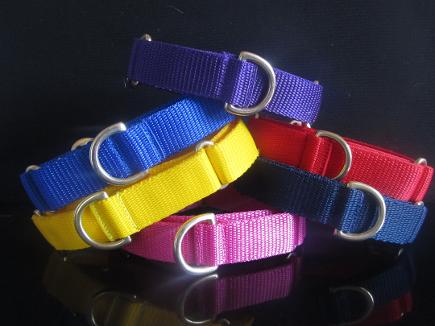 40 mm/1.5 inch Double Strength Polypropylene Martingale
50 mm/2 inch Double Strength Polypropylene Martingale